At the two-hour mark of this long and important video, after the discussion about the book Political Ponerology, psycopathy, and empathy, Catherine Austin Fitts mentions the importance to the global controllers of understanding livestock management.  
http://media.clarkart.edu/Web_medium_images/1962.152.jpg 
[ featured image]
http://www.clarkart.edu/Collection/2087 
Aside from my immediate mental association with George Orwell's book Animal Farm, I also immediately thought of having grown up in the shadow of the scientific experimental farming operation owned by E. Parmalee Prentice, a lawyer born in Davenport, Iowa.  
E. Parmalee Prentice and his wife Alta, daughter of John D. Rockefeller, founded Mount Hope Farm, a fusion of an experimental farm and grand estate.
Its "farmhouse," an elaborate 72-room Georgian mansion called Elm Tree House, was surrounded by formal gardens.
http://www.iberkshires.com/UserFiles/Image/DSCF0379.JPG 
The Prentice farm house was the scene of many lavish parties. http://query.nytimes.com/gst/abstract.html?res=9500E5D91F3EE333A25752C3A9619C946294D6CF 
The farm, which gradually grew to over 1300 acres during the 1900s, was noted for its success in using genetic principles to improve the yield of potatoes and to boost the production of egg-laying poultry and of dairy cattle.
Mount Hope's findings were known and used worldwide.  Its publications were translated into many languages, and the farm hosted representatives from dozens of developing countries to study its methods.  Locally, the farm was important because even during the Depression it was a major employer of trades people, domestics, and farm workers; it was the largest contributor to the town's tax coffers; and it kept many acres of Williamstown land in agricultural use well into the twentieth century.
Nathaniel Hawthorne's 1838 description of the town remains remarkable accurate today.  "I had a view of Williamstown at a distance of a few miles—two or three, perhaps—a  white village and steeple in a gradual hollow, with high mountainous swells heaving themselves up, like immense, subsiding waves, far and wide around it."
http://www.williamstownhistoricalmuseum.org/how-did-we-become-williamstown/ 
http://files.usmre.com/843/blog/misc/williamstown-view-of-williams-college.jpg
http://williamstownhistoricalmuseum.org/wp-content/uploads/2013/09/BreedingCattle.jpeg 
Their only daughter went to Williams.
http://query.nytimes.com/gst/abstract.html?res=9C0DEEDD1F30EE32A25756C2A96F9C946694D6CF 
http://image1.findagrave.com/photos/2010/36/47346247_126549733085.jpg
http://www.findagrave.com/cgi-bin/fg.cgi?page=pv&GRid=47346247
There used to be a downloadable e-book written by him on the topic of breeding profitable dairy cattle.
http://library.truman.edu/manuscripts/laughlinb-boxes.asp
If you browse through this link discovered in a search on the name E. Parmalee Prentice, you find him just below the mention of Colonel House in the section on Materials for Race Conditions in the US, in B-5-1-B.5 ["Publishing: Fundamental Instrument of the World"], above the sections on World Government.
http://www.moma.org/momaorg/shared/pdfs/docs/press_archives/2627/releases/MOMA_1960_0026_21A.pdf?2010 The gift of adjoining brownstones, the home of John D. Rockefeller and his wife Laura Spelman which Alta inherited as the third daughter, was made to the MOMA on West 534rd Street in response to a fundraising drive by David Rockefeller and announced by messenger to Time, Newsweek, the Associated Press, UPI, numerous radio stations, newspapers and news syndicates.
http://www.cookbkjj.com/bookimages250/025126.jpg
Colonel Eza Parmalee Prentice, though it is unclear how he earned the rank, was the author of the book "Hunger and History", published by the Caxton Printers of Caldwell, Idaho (1939, 1951). "Besides Hunger And History, he has written several legal works and four volumes dealing with animal husbandry and scientific farming.".  http://cookbkjj.com/bookhtml/021526.html
http://www.unz.org/Pub/PrenticeEParmalee-1939 [reviews in pdf format]
The Mount Hope Index was a statistical method to breed better bulls that was developed by E. Parmalee Prentice.
This 475-page book tells in depth the growth of artificial insemination of dairy cattle, especially by tracing the growth of what became ABS (American Breeders Service). Note: I'll admit to a special interest here as I served as advertising manager for some eight years at this great company in the 1970s.
A.I., new to dairying
Ron Dougan had a close relationship with breeding better cattle dating to 1928 when he discovered the Mount Hope Index, a statistical method to breed better bulls that was developed by E. Parmalee Prentice. Through letters, Prentice visited the Beloit farm and actually brought two young bulls to be tested on the farm with him.
The Rock County Breeders Co-op began operations in 1936 with Ron as secretary, which ultimately triggered a meeting with Rock Prentice (Parmalee's son) who founded ABS some years later.
Prentice, although a graduate of Yale Law School, had dairy cattle improvement as his real love and goal in life. The book traces his involvement through breeding cooperatives, the American Dairy Cattle Club (registered both purebred and grade animals), Wisconsin Scientific Breeding Institute, a series of seven breeding organizations scattered from coast to coast and the formation of ABS with headquarters in Chicago, later in Madison and then DeForest.
Amos Grundahl, a Rock County farmer and early practitioner of the art of A.I., plays a leading role in the story as manager of the Rock County Breeders Co-op and many years as an ABS representative.
http://fee.org/freeman/what-is-overpopulation/
This 1970 article on overpopulation, which discusses cannibalism, agriculture, the Native American population, the role of socialism in famine, natural disasters, et alia.
http://www.wisfarmer.com/features/columns/round-barn-saga-continues-b99425840z1-288500611.html cites Prentice twice
this paper has been saved to a pdf here Overpopulation
See also http://fee.org/freeman/the-problem-of-poverty/ 
She [Alta Prentice] was the last surviving child of John D. Rockefeller, who lived here while becoming a multi-millionaire in oil. Mrs. Prentice had not lived in Cleveland since childhood. She was the widow of E. Parmalee Prentice, an attorney. She was an aunt of New York Gov. Nelson A. Rockefeller. Surviving are two sons, John Rockefeller and Spelman Prentice, and a daughter, Mrs. Benjamin D. Gilbert. Three sisters and a brother, John D. Jr., preceded her in death.
http://www.ancestrypaths.com/get-started/obituary/cpl-necrology/ 
American Dairy Cattle: Their Past and Future. By E. Parmalee Prentice. New York: Harper and Brothers, 1942. Pp. xix, 453.
https://ideas.repec.org/a/cup/jechis/v2y1942i02p227-229_05.html 
http://journals.cambridge.org/action/displayAbstract?fromPage=online&aid=7466996&fileId=S0022050700052736 [review and discussion of "pre-bred" versus culling, selection and good feeding) (nature versus nurture)
Food, War and the Future, E. Parmalee Prentice, Harper and Brothers 1944.
https://books.google.com/books/about/Food_War_and_Future.html?id=MtgEAAAAMAAJ
Home >> Quotes & Sayings >>
E. Parmalee Prentice Quotes >>
(About Dependence, Facts, History, Labor, Man, Time)
If anyone wants to understand the course of man on earth, he must consider the fact of the long pause, three million years on the level of savagery, ten thousand years on the level of dependence on the fruits of hand labor, and a hundred or a hundred and fifty years of sudden sharp rise. One hundred or 150 years is the time included in what we call progress in man's history.
http://www.inspirationalstories.com/quotes/e-parmalee-prentice-if-anyone-wants-to-understand-the-course/ 
See also:
http://www.alibris.com/Farming-for-famine-E-Parmalee-Prentice/book/2259279 
https://en.wikipedia.org/wiki/Alta_Rockefeller_Prentice 
http://www.angelfire.com/sc3/prentice/ ["The Rock"]
*****
Colonel Ezra Parmalee Prentice
In the early 1920's Ezra would become acutely aware of and concerned with the increased global population and the interplay of hunger and history.  Mt Hope Farm would be used to conduct research to improve farm animals, poultry, sheep, swine and cattle and he built a 72 room summer home called Elm Tree House on Mount Hope Farm which was completed in 1928
In the census of 1930, Ezra was living with his wife Alta and three children at West Fifty Third Street, New York.  The considered value of his property at that time was $200,000
In the 1930s and 1940s, Ezra employed several geneticists to develop more profitable farm animals, especially cattle and poultry. He would later write a book which was published in 1944 by Harper and Brothers.  The book was called Food, War and the Future which was about agriculture and the supply of food.
http://prenticegenealogy.blogspot.com/2013/03/ezra-parmalee-prentice.html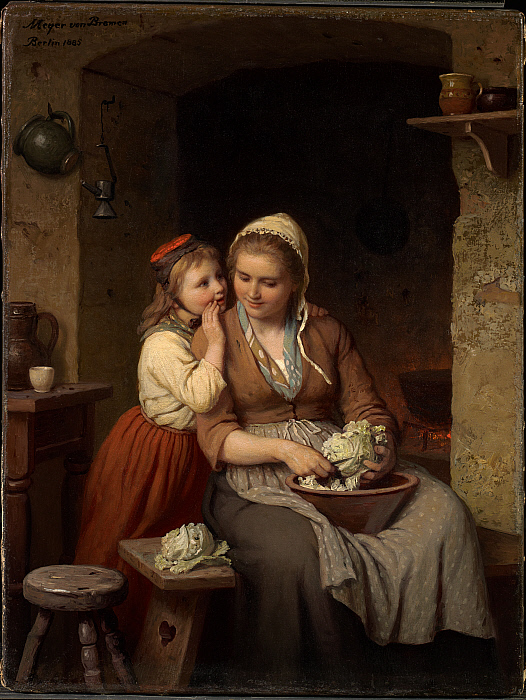 http://media.clarkart.edu/Web_medium_images/1962.149.jpg 
http://www.clarkart.edu/Collection/10044 
A dangerous trend is cementing into place, where GMO foods, aspartame added to milk and cloned meat can all enter the marketplace without being labeled — or even officially announced — to the public.
And while a major controversy has erupted over labeling genetically modified food staples, commonly mixed in with a wide array of foods, we are told that cloned beef may not even be identifiable or distinguishable, and may already be in our food supply.
The FDA gave assurances in 2008 that it is totally safe; but if any risks are identified, how will the public even know what's on the end of its fork? The FDA lifted what was already only a "voluntary" ban on these cloned meats, so it may well have already entered the market — unlabeled.
Even more disconcerting are a few of the major ties found in the history of breeding cattle, chickens and other livestock in this country. The grandson of John D. Rockefeller was Skull & Bones initiate class of 1928 John Rockefeller Prentice — a pioneer of artificial insemination whose firm revolutionized the breeders market from a regional-only stud basis to the capability to sire "genetically superior" cattle nationally and worldwide with ease – both for beef and dairy production — through the possibilities afforded by freezing bull semen.
Prentice's life work was shaped by that of his parents. His mother, Alta Rockefeller Prentice, the third daughter of robber baron John D. Rockefeller, made Prentice the descendent of the world's most prominent eugenics family. His father, Colonel Ezra Parmalee Prentice, was a leading Chicago lawyer, part of a prestigious firm. Alta and Ezra purchased a 1,400 acre tract in Massachusetts circa 1910, constructed a 72-room mansion, called Elm Tree House, they considered a "summer home" that was completed by about 1928. The estate, known as Mount Hope Farms, was a leading experimental breeding farm, and employed several geneticists throughout the 1930s and 1940s who worked to produce more profitable livestock, notably cattle and poultry.
The advances made at Mount Hope provided the foundation for John Rockefeller Prentice's work in cattle breeding.
His company American Breeders Service (ABS), founded in 1941, became a giant in the industry, and very much on the cutting edge of artificial insemination and, eventually, cloning. By 1953, it was the first to produce a living calf in the U.S. from frozen semen. Prentice sold the company to W.R. Grace amid failing health ahead of his death in 1972. By 1988, ABS Global Inc. became the first firm to clone bulls from a split embryo, and later, by 1997 achieved a major breakthrough, cloning the first cow from a single somatic cell, then under ownership by Protein Genetics, Inc.
Today they have been absorbed by Genus, plc. and are part of a major biotech enterprise servicing 3 million beef and dairy cows produced with ABS semen each year in 70 countries all over the world.
What's really in your food? And who defines what food is anyway? A clone of a clone of a clone?
It should be noted at the time ABS announced they had unveiled a new stem-cell based technique for cloning cows back in 1997, many leaders in the biotech industry called it a giant leap toward approval for cloning humans. The Sun Sentinel reported:
The apparent ease with which the ABS technique can convert specialized cells into stem cells not only improves the commercial viability of cloning, it also may remove some of the ethical barriers that led the commission to advise against human cloning, Charo said.
"When the presidential commission recommended against human cloning, it did so because we saw the Scottish technique as being too unsafe now to try on human babies," she said.
"If stem-cell cloning eliminates those safety problems, it moves us forward more quickly to the point at which human cloning is at least safe." [emphasis added]
As reported in 1997 news articles, the major incentive for ABS Global or any cloning firm is to increase beef production.
In turn, it is hope that cloned animals can aid in increased production through genetic improvement, for more beef and diary products per head, through of course, genetic modification.
Further, as Deseret News reported back in 1997, some hope to add genes for the production of drugs – so-called "pharming" for pharmaceutical drugs and components – using cloned cattle as a viable vector for this production:
Clones, produced without sexual reproduction, are exact genetic duplicates of another animal. Cloned cattle would be useful because they could be genetically manipulated to produce impressive amounts of milk or beef.
[…]
Cloning might also allow the insertion of genes that would cause a sheep or cow to produce drugs or other valuable substances in its milk.
Are any genetically-modified beef products on the market today? Are we eating cloned beef?
Without labeling or any sort of public declaration to confirm or refute this, but rather a laissez faire attitude from the leading federal regulatory agencies, those questions are very difficult to answer.
Many who follow the issue closely say it is only a matter of time, if not already too late.
http://www.nutritionalanarchy.com/2014/04/03/cloned-beef-a-rockefeller-story/ 
https://en.wikipedia.org/wiki/John_Rockefeller_Prentice 
Mons Spes
http://onlinebooks.library.upenn.edu/webbin/book/lookupname?key=Prentice%2c%20E%2e%20Parmalee%20%28Ezra%20Parmalee%29%2c%201863%2d1955
http://www.nytimes.com/books/98/05/17/specials/rockefeller-fortune.html [saved as  a pdf entitled "Rockefeller rugged individualism"]
Rockefeller rugged individualism
http://www.pentaxforums.com/gallery/images/38210/1_Copy_of_IMGP3245_Mt_Hope_Large_e-mail_view.jpg
image is of Deer Ridge, the extensive lands out behind the mansion and the 12-bay garage for the fleet of phaetons, which was bought and split up by a consortium of Williams College alumni including Fay Vincent and which overlooks the intersection of Hopper Road and Bressett Road and up into the lands of the Haley Farm now preserved as part of the Mount Greylock Reservation. The prominent mountain peaking on the left is Mount Prospect. Mount Greylock and The Hopper are obscured in the clouds.  Stony Ledge is the shoulder flank to the Hopper, on the right; 
the Hopper is arguably a rare glacial cirque.  
http://virtualglobetrotting.com/map/mount-hope-farm/view/bing/ 
Changing Poultry Practices
+
Author Affiliations
Mount Hope Farm, Williamstown, Massachusetts
Received August 10, 1926.
Abstract
Poultry science is entering on a new era, thru discoveries in poultry nutrition which bid fair to introduce radical changes in the practical business of poultry keeping. We have thought for years that free range was needed to secure normal growth in poultry. We have thought that young chicks needed contact with mother earth, but now we are learning how to grow first class chicks in close confinement indoors. Other long standing practices, such as the use of grit and of scratch grain, seem likely to pass into disuse. The new methods promise a complete control of poultry sanitation, for the chicken being a ground feeder has insisted on eating food contaminated by its own excreta. The young chicks are often in contact with older birds, and so soon become infected with a variety of parasites. Mount Hope Farm has been experimenting for a number of years with fresh ground, . . .
© 1927 Poultry Science Association Inc.
http://ps.oxfordjournals.org/content/6/6/282.short 
http://www.poultryscience.org/docs/pba/1952-2003/1955/1955%20Title.pdf 
http://www.sportscardigest.com/wp-content/uploads/HF10_r199_05-556-Pierce-Arrow-1931-Model-41-All-Weather-Tourer-3050219-None-620×413.jpg 
Lot # 556 1931 Pierce-Arrow Model 41 All Weather Tourer; S/N 3050219; Sand, Brown fenders and accent/Brown leather; Beige cloth top; Estimate $125,000 – $175,000; Visually maintained, largely original, 3- condition; Hammered Sold at $157,500 plus commission of 10.00%; Final Price $173,250 — Spoke wheels, whitewalls, rear-mounted spare, jump seats, free-standing headlights. One of five known survivors of this style on the long wheelbase chassis. Chipped old repaint over old paint. Worn but sound upholstery with original interior panels, Fair chrome. Tired but sound mostly original car first owned by Alta Rockefeller Prentice, John D. Rockefeller's daughter. Later owned by Winthrop Rockefeller and displayed at Petit Jean Mountain until it was sold to Bill Harrah. Known history from new and 36,886 miles. Worth this much even without the exemplary history and provenance, the buyer got good value for money.
https://www.youtube.com/watch?t=2&v=UsI3FTjScfg