Every once in a while, you get reminded of what you'd worked so hard to put behind you.
There is some simple maxim that keeps popping up about the road being paved with good intentions and I'm sure it was with good intuitions that I received, unexpected and unannounced, for Valentine's Day, from my older sister, a small selection of "goodies" she'd recovered when she was the executor of my parent's estate and cleaned out their mobile home after they passed.
A half a century ago, I was transitioning through boyhood, out of a small private day school where my step-mother watched over me from her desk just outside the principal's office.
I doubt my sister is aware of the day that my step-mother drove precipitously close to me as I rode my bike home; she timed it perfectly as I rounded the diving right turn on the shoulderless two-lane back-country brookside road.
I doubt my sister is aware of the day in the back yard when I finally realized I had grown to a size that, if it exerted itself, could stand up to the ear-twisting, head-slapping, arm-twisting re-direction of my attentions and intentions.
But my sister is surely aware of the loud arguments at dinner time about whether my parents could afford to send me to prep school, and she surely is aware of the fact that I came this close to getting thrown out of the place when they did find the money. I'm sure she read the letters and report cards she sent on. And I trust my sister is aware of the degree and frequency with which the old man was implored by his wife to use the belt.
Folded neatly in the stack was a single-page interim report noting two classes which I was in danger of failing, the first from the geometry teacher who checked off the boxes "poor attention in class", "superficial or careless homework preparations", "apparent lack of interest", "failure to follow suggestions", and "lack of determination and sustained effort".
The second report was from the English teacher Warren K. Hall who noted I'd done poorly on the two assigned texts, and had failed to muster the short story terms of plot, character, theme, irony, etc.) and that I'd been reprimanded for my smart-aleck attitude; "that attitude has disappeared and I trust I will see no more of it this year." [Cue Pink Floyd. And Arthur Silber on Alice Miller's work ] This is the same school from which Obama's senior adviser Valerie Jarrett graduated. The report was dated 11/27/63, just two days after the assembled children of North Farm House joined housemaster David C. Burnham, the former Marine, in his living room to watch "Jack Ruby" shoot Lee Harvey Oswald, another Marine.
Also in the stack from my sister was an envelope with three letters to me from my father dated March 3rd, May 6th, and May 12th of 1964. The first implored me to write to my brother who'd been unceremoniously thrown out of the house and told to join the military for reasons never disclosed to me during that last half-century; my father's letter and noted his address at Lackland AFB with the admonishment that every number in the long string of numbers was important and that, it being impossible to get me home to see him before he left… probably because I was confined to campus as punishment for one of my transgressions, attached to my requirement of 18 hours of forced hard labor chipping and scrubbing out the hard-baked carbon crust on the inside of the campus steam-production boilers) …  I ought to drop him a note. This brother is now fighting for his life in a hospital in the Southwest (near one of those underground military bases alleged to be FEMA's most sensitive installation) due to the ravages of Agent Orange; he is so estranged from his family that he will not talk to me.
But Dad's missive in '64 inquired whether the son of the scion of the Phelps-Dodge copper mining fortune was home from school on the same schedule as me and the son of two well-known Bennington College poets who went on to Phillips Andover, and the letter asked if I liked the chaplain from Yale [the OSS/military intelligence officer and former CIA agent who was a member of Skull and Bones who was touring the pulpits of New England] and it also asked if I had noticed that "some clergymen seem to get through to you and some don't".
[Dad, if they let you have a media player where you are, you may want to listen to this.]
Then, after two paragraphs of sermon, the first on communications and the second on faith, he said "I have been trying to communicate with you but I don't seem to get through to you. Why?"
Later: "Incidentally, the boys at Eton get lashes or beatings if they do not conform. Interesting to note that three out of four students voted against abolishing this punishment.  What's the scoop?  What gives? I am waiting to hear from you…."
Two months later: "Perhaps the way to make up for my poor correspondence is to write another letter today…."
A week later, he sent on a copy of a report card with the note that my step-mother said I must be improving since I got only one warning instead of three. He added the admonishment that I had failed to send a Mother's Day card.
Deeper in the stack from my sister was the letter dated 6/22/64 from David C. Burnham, Director of Academic Counseling [yeah, my in loco house parent] to let my parents know that I had been placed on academic probation and that, should I choose to return, a "stiffer approach" to my shortcomings would be taken.
Also in the stack was a photocopy of the tear-sheet from the Lawrence Eagle Tribune with this short story.
Enclosed also was the original letter I had typed to my mother dated 2/9/76 after my father had disowned me for divorcing my wife, meeting another woman, fathering a child out of wedlock, and so on. I said that "from the moment I met [her], I know that our loving each other would not be easy for either of us, or for others…. Yet being a thing in our hearts, it made it that much easier for us… and more of a dream, a goal…. We have shared the burdens, and the joys.  Our biggest pain is that some cannot see the love we have for each other."
Recently we celebrated our 40th anniversary.
One of the ways in which we celebrated it, aside from sharing  some great meals, trading gifts (I gave her a jade pendant and she gave me two great kids, her forgiveness and a gift card to the local bookstore) was to watch the new movie "Boyhood". [ "Dad, there's no real magic in the world, right?"]
All of the above forms some kind of weirdly shimmering backdrop to the current events of the day in which "miscreants" are labeled as having been radicalized.  
My own world and background is nebulous, almost weightless, compared to that of individuals whose world has been turned upside down by war, whose children have been murdered, whose very culture is demonized and poisoned with depleted uranium, whose peoples have been the focus of brutally sadistic torture designed by the very people the chaplain from Yale chose not to preach to or about. But they do lecture us about our own integrity and our own failings.
http://www.euro-islam.info/wp-content/uploads/2014/12/Screen-Shot-2014-12-24-at-11.32.38-AM.png
https://en.wikipedia.org/wiki/Radicalization
http://www.nypdshield.org/public/SiteFiles/documents/NYPD_Report-Radicalization_in_the_West.pdf 
http://www.npr.org/2015/01/22/379010263/-charlie-hebdo-gunmen-textbook-case-of-radicalization 
De-radicalization involves psychological therapies, religious instruction and even job training.
http://www.latimes.com/opinion/op-ed/la-oe-0215-horgan-terrorist-deradicalization-20150215-story.html
http://cmsimg.freep.com/apps/pbcsi.dll/bilde?Site=C4&Date=20110617&Category=BLOG24&ArtNo=110617002&Ref=AR&MaxW=640&Border=0&Mike-Thompson-Rep-King-radicalized-Muslims
Hicks, the parking space terrorist
But Hicks, who walked into the flat of three students in Chapel Hill, NC and shot them, execution style, was not a Muslim. He comes from Christian heritage. He is not black or brown, but white. His name is not Ahmed, but Craig.
That changes everything.
Neither the police nor the media would describe his crime as a hate crime, let alone terrorism, although his terrorism is unique in a way. His type resides on the top of the food chain in terms of race, gender and other criteria. Yet, somehow he is politically frustrated. Go figure.
He is not a member of a radicalised generation born into oppression, foreign invasion, poverty and other untold humiliation. If that was the case, one can, at least to a degree fathom the hate, deconstruct the anger, or even rationalise that violence is a natural outcome of  a certain reality.
Hicks is of the Fox News demographic, gun touting unreasonably and immeasurably angry, white American. Self-proclaimed atheist or otherwise, it matters little.
Police and media whitewashing
To add insult to injury, the Chapel Hill police reacted mere hours after the terrorist act saying that an "ongoing dispute over parking may have led to a triple shooting". The media embraced the statement with little questioning. That was clearly Hicks' statement to the police, which was adopted as fact. The term terrorism was completely absent from mainstream media discourse.
Obama finally reacted to the heinous crime, but only after being urged on by a visibly moved Turkish President Recep Tayyip Erdogan. "As political leaders, we have responsibilities for the murders committed in the countries where we are in charge. We have to show our stance. If you stay silent when faced with an incident like this, and don't make a statement, the world will stay silent towards you," Erdogan said.
Obama, belatedly issued a shot statement, vague and uncommitted.
The media's insistence on the parking dispute story has become the dominant narrative. The tastelessness and insensitivity reached new heights when a US Inside Edition TV show produced a report on how to "safely" find a parking spot while avoiding dispute.
"Finding a parking space can be one of the things that pushes people over the edge, but there is always a way to find a spot at the mall," said the show host Deborah Norville. Behind her, on a large screen, the three murdered Muslims. She didn't even bother to mention their names, or list their contributions to their community. Their charity work alone was more than all the good that Hicks and his gun-touting "atheists" types can ever do for their community in a lifetime.
If the murderer was a Muslim or a black man, Norville's report would have had a different title: "How do you spot a terrorist?" maybe, or "What to do about gang violence in my neighbourhood?" perhaps.
Holding US media accountable
But if the victims are Muslims, which could be millions of Iraqis, thousands of Palestinians, or three Muslim students in North Carolina, the discourse shifts away from generalisations, politics or any context that may in fact help us understand the issue better.
So Hicks, we are told, killed the students "execution style" because of a dispute over parking spaces.
The same way that Chris Kyle – "The American Sniper" – made 164 confirmed "kills", killing "savages" because that's what national heroes do.
And US wars and sanctions on Iraq killed, starved and wounded millions to bring democracy to the Arabs.
This selectively insane logic will persist however, because there are millions of unrepentant politicians, extremist media pundits and well-armed men and women who refuse to see the recklessness of their "logic".
They will continue to feed violence – which unlike what Hicks is led to believe – didn't start on 11 September 2001 – and spit out the most dangerous of militant phenomena: al-Qaeda, IS and all the rest….."
http://cryptome.info/0001/anmcc-plan.jpg
Also in the background of the day's events and the small package from the past is the fact that I am just finishing the reading of Annie Jacobsen's book Operation Paperclip. I am going to have to re-read it, perhaps twice, to discover the author's intent. Available bios are slim, and I haven't yet collected the reviews.  She is a very good writer and her book(s) have received praise from all the right places. I haven't read "Area 51" yet but I've scanned enough about it to understand that there is a new wrinkle offered up on what really happened and who was behind the infamous Roswell incident. I've leave that for another day, and I'll be writing much more in depth about Annie's book in the future.
My curiosity is raised to a higher degree because no where does she mention Henry Kissinger, Allen Dulles, "The Secret Surrender", Prescott Bush, or Skull and Bones. She does tell the story of Frank Olsen; her book was published in 2014, and she dismisses the fellow who flew out of the window as deserving his fate because he was himself a violator of the Nuremberg Code and part of the team of "covert poisoners", and thus deftly avoiding in one paragraph any reference whatsoever to Hank Albarelli's book from five years earlier entitled "A Terrible Mistake".
See also http://truth-out.org/archive/component/k2/item/88113:the-real-roots-of-the-cias-rendition-and-black-sites-program 
as well as 
http://www.redicecreations.com/radio/2010/02feb/RIR-100209.php 
But I digress… (to borrow a phrase from the former Ed Encho, Donn Marten).
What has this digression have to do with the above?
It's about radicalization.
While there are lots of things that have been written about Operation Paperclip, one of the elements Jacobsen does share with us is the fact that some of the folks whom the intelligence apparatchniks from before, during and after World War Two — our great fight against the original Axis — brought home with them came equipped with the scientific approach to war crimes, medical experimentation, bio-chemical warfare, rocketry, and secret underground complexes. In doing so, they embraced the idea that to fight evil one must become evil, or at least engage in evil acts (is there a difference?). And so we got Fort Detrick, the militarization of space, the ability to deliver weapons of mass destruction widely or anywhere, and lots of deep, dark places holding deep, dark secrets.
And then they lecture us about fighting the radicalization of others.
Much of what Annie Jacobsen talks about in her book can be confirmed easily with a search engine and some time in a bookstore or a library.  [You can even discover a lot of what she left out; I'll tak more about that in another blog entry.]
What follows below should be taken with a grain of salt and the knowledge that some links no longer work.  Much work has been done by a lot of people. Some of them are grad students, some of them are investigative journalists, and some of them are controversial (ex: Richard Sauder).  Caveat lector.
Bring a long ball of twine as you enter the metaphorical labyrinths of the old Reich and the new one.
http://minos-the-minotaur-comic.dumbbum.net/mythology-comic/character-picture/minotaur_image/Theseus_Minotaur_maze.jpg
http://en.wikipedia.org/wiki/Raven_Rock_Mountain_Complex 
https://en.wikipedia.org/wiki/Franz_Xaver_Dorsch 
http://www.explorecrete.com/history/images/Minotaur.jpg
It is not accidental that Lloyd Duscha mentioned the U.S. Army Corps of Engineers' increased interest in underground bases and construction in the post-World War II period.
In the closing stages of WW II, the U.S. military overran the Third Reich and confiscated a treasure trove of Nazi technology, engineering facilities and research laboratories.
The American military also apprehended and detained large numbers of Nazi scientists, engineers and technicians, many of whom were brought to the United States under the auspices of the infamous "Project Paperclip" and integrated into American industry, research institutes and into the military and other official agencies.
▪Read Project Paperclip File 1
▪Read Project Paperclip File 2
▪Read Project Paperclip File 3
The cases of such Project Paperclip notables as Wernher von Braun, and other "ex"-Nazis who were put to work building rockets and missiles for the military and NASA, are well known.
The American political and military establishments were very impressed with Nazi V-2 and buzz bomb missile technology, and brought Von Braun and his team to the USA at war's end to continue and advance the research and design they had done under Hitler's Third Reich.
The development of the manned space program, satellite technology, deep space probes, intercontinental nuclear missiles and cruise missiles are all fruits of their work.
But Project Paperclip had another aspect which has received almost no publicity. And that aspect had to do with the underground facilities that the American military discovered when they entered the remnants of the Third Reich in the concluding stages of open military hostilities between the Allied and Axis powers in the European theater.
I have two declassified Project Paperclip memoranda in my files that specifically request four men with expertise in underground construction, one of whom is Xaver Dorsch.
Project Paperclip File Xaver Dorsch File
The other men are not known to me, but Xaver Dorsch is. He was the director of the so-called Todt Organization in the closing phase of WW II.
The Todt Organization was originally headed by Fritz Todt, whence the name. Fritz Todt was the designer and creator of the well-known German autobahn system of highways.
The Todt organization served a somewhat analogous function in the Third Reich to that of the U.S. Army Corps of Engineers or the U.S. Navy Seabees in the present American military system.
In other words, it was a civil engineering agency that supported the operations of the German military, though, unlike the case of the U.S. Army Corps of Engineers or the U.S. Navy Seabees in the American system, the Todt Organization was not a formal part of the German military structure.
However, it did play a crucial role in the Nazi war effort and constructed many facilities for use by the German military and industry. Some of the underground structures that it built were impressively large and sophisticated.
In 1942 Fritz Todt was killed in an airplane crash and by war's end control of the agency had effectively passed to Xaver Dorsch. In the closing stages of the war, Hitler specifically tasked Dorsch with developing a series of huge, underground, industrial manufacturing facilities.
Allied bombing raids were shredding German manufacturing and the Nazi command wanted to shift production underground, out of reach of American and British bombs. The collapse of the Third Reich ultimately put an end to those plans.
I remain persuaded, however, that a great deal of what the Allies found when they went into Germany remains classified to the present day, and that includes the full extent of the underground facilities built by the Todt Organization.
Xaver Dorsch was taken prisoner by the American military on 7 May 1945. I have two moderately lengthy documents that he wrote for the Americans, evidently as part of his debriefing by them.4 One was produced in 1946, the other in 1949-1950.
The documents deal with the administrative structure and operational activities of the Todt Organization during the war. I strongly suspect that Dorsch supplied a great deal more information to his American captors during that period that has yet publicly to see the light of day.
Xaver Dorsch may even have worked directly for the American military on the construction of secret, underground bases in the USA, just as he had done for the Nazis during the Third Reich.
It is a fact that he was in American military captivity and was requested specifically by Project Paperclip.
During the course of my research I spoke with an expert who is personally familiar with some of the Nazi underground constructions in Europe and his observation to me was that they were very well made facilities.
One of the best accounts of such facilities that I have found in the open literature is the anecdotal history related by Colonel Robert S. Allen that details what General Patton's army discovered when it entered Germany in the closing stage of World War II.
Col. Allen revealed that Patton's forces found four large underground bases in the vicinity of the grim Nazi concentration camp near Ohrdruf, Germany; other underground facilities were reported in nearby towns. Col. Allen provided the following description:
The underground installations were amazing. They were literally subterranean towns. There were four in and around Ohrdruf…. None were natural caverns or mines. All were man-made military installations. The horror camp had provided the labor. An interesting feature of the construction was the absence of any spoil. It had been carefully scattered in hills miles away.
Over 50 feet underground, the installations consisted of two and three stories, several miles in length and extending like the spokes of a wheel. The entire hull structure was of massive, reinforced concrete. Purpose of the installations was to house the High Command after it was bombed out of Berlin. The Ohrdruf installations were to have been used by the Signal Communications Section.
One, near the horror camp, was a huge telephone exchange equipped with the latest and finest apparatus. Signal Corps experts estimated their cost at $10,000,000.
This place also had paneled and carpeted offices, scores of large work and store rooms, tiled bathrooms with both tubs and showers, flush toilets, electrically equipped kitchens, decorated dining rooms and mess halls, giant refrigerators, extensive sleeping quarters, recreation rooms, separate bars for officers and enlisted personnel, a moving-picture theater, and air-conditioning and sewage systems. Begun in 1944, the installations had been completed but never occupied. [5]
The Regenwurmlager in Poland
Another spectacular example of Nazi underground engineering prowess was the subterranean Regenwurmlager complex that still sprawls for many miles deep beneath the countryside of western Poland. Several years ago Paul Stonehill wrote an eye-opening article about this site, replete with color photos, in FATE magazine. [6]
The Regenwurmlager was an obvious Nazi analog on the eastern German border region to the well-known Maginot Line that the French had built in their eastern border region, in that it also, like the Maginot Line, was comprised of many miles of underground tunnels and electric train lines connecting bunkers, fortifications and other critical military facilities.
Amazingly, the full extent of the huge complex is not known, even today. It is not known if either the Poles or the Russians have ever fully explored the many miles of tunnels and underground emplacements.
According to Stonehill, the facility has many secret or hidden entrances, and an underground subway system with an electric train on rails that ran through a tunnel approximately 100 to 165 feet below the surface.
On the surface, there were numerous military fortifications and bunkers crammed with weaponry, connected by secret passages to a sprawling labyrinth of tunnels below ground, said to be 30 miles or more in length.
Stonehill reports that Adolf Hitler is alleged to have visited the Regenwurmlager in 1937, riding in on the underground subway train. [7]
It happens that the Regenwurmlager complex of military bunkers and underground tunnels and subway trains was located in territory that was overrun by Soviet troops in the closing stages of World War II, so the American military may never have examined the facility.
However, I consider it very likely that Xaver Dorsch would have had personal knowledge of this facility, and it is quite likely that he extensively briefed his American captors on the large Regenwurmlager system of underground tunnels and bunkers.
This book cannot provide an exhaustive treatment of Nazi underground facilities, but the examples provided suffice to demonstrate that 65 to 75 years ago, Nazi engineers already had a sophisticated capability to construct elaborate, large facilities underground.
The American military understood this clearly at war's end, and urgently wanted to bring Nazi experts to the USA to build underground facilities here also.
http://vaticproject.blogspot.com/2012/04/nazi-engineers-secret-us-military-bases.html 
http://www.ancientcoinage.org/uploads/3/0/4/2/3042200/2667806.jpg?360
a repository for documents pertaining to the underground dispersal projects and the associated concentration and forced labor camps conducted by the Nazi government and German businesses during World War I
http://nazitunnels.org/omeka/collections/browse
http://www.ancientcoinage.org/uploads/3/0/4/2/3042200/2667806.jpg?360
http://www.subterraneanbases.com/tag/nazi/
http://www.subterraneanbases.com/deep-underground-military-bases-and-the-black-budget/
On April 16, 1996, the New York Times reported on a mysterious military base being constructed in Russia: "In a secret project reminiscent of the chilliest days of the Cold War, Russia is building a mammoth underground military complex in the Ural Mountains, Western officials and Russian witnesses say. Hidden inside Yamantau mountain in the Beloretsk area of the southern Urals, the project involved the creation of a huge complex, served by a railroad, a highway, and thousands of workers."
The New York Times article quotes Russian officials describing the underground compound variously as a mining site, a repository for Russian treasures, a food storage area, and a bunker for Russia's leaders in case of nuclear war. It would seem that the Russian Parliament knows as little about Russian underground bases as the Congress knows about Mount Weather in the United States. "The (Russian) Defense Ministry declined to say whether Parliament has been informed about the details of the project, like its purpose and cost, saying only that it receives necessary military information," according to the New York Times.
"We can't say with confidence what the purpose is, and the Russians are not very interested in having us go in there," a senior American official said in Washington. "It is being built on a huge scale and involves a major investment of resources. The investments are being made at a time when the Russians are complaining they do not have the resources to do things pertaining to arms control." Where's the Money Coming From? The construction of the vast underground complex in Russia may very well become a cause of concern to the Clinton Administration. The issue of ultimate purpose for the complex, whether defensive (as with Mount Weather) or offensive (such as an underground weapons factory) is not the only issue Mr. Clinton has to worry about.
The real cause for concern is that the US is currently sending hundreds of millions of dollars to Russia, supposedly to help that country dismantle old nuclear weapons. Meanwhile, the Russian parliament has been complaining to Yeltsin that it cannot pay $250 million in back wages owed to its workers at the same time that it is spending money to comply with new strategic arms reduction treaties. Aviation Week and Space Technology reported that "It seems the nearly $30 billion a year spent on intelligence hasn't answered the question of what the Russians are up to at Yamantau Mountain in the Urals. The huge underground complex being built there has been the object of U.S. interest since 1992. 'We don't know exactly what it is,' says Ashton Carter, the Pentagon's international security mogul.
The facility is not operational, and the Russians have offered 'nonspecific reassurances' that it poses no threat to the U.S." U.S. law states that the Administration must certify to Congress that any money sent to Russia is used to disarm its nuclear weapons. However, is that the case? If the Russian parliament is complaining of a shortage of funds for nuclear disarmament, then how can Russia afford to build the Yamantau complex?
Are the Russians building an underground city akin to Mount Weather with American taxpayer's money?
Could American funds be subsidizing a Russian weapons factory?
Hopefully Congress will get a firm answer to these questions before authorizing further funding to Russian military projects.
(c) Copyright 1996 ParaScope, Inc.
http://www.subterraneanbases.com/mount-weathers-russian-twin/
http://www.undeadolympia.com/wp-content/uploads/2011/05/minotaur.jpg
Lots and lots more here:
http://www.subterraneanbases.com/under-the-ground/
http://www.ibtimes.co.uk/lost-nazi-underground-weapons-testing-bunker-unearthed-austria-1481127
The secret weapons complex was found near Mauthausen-Gusen concentration camp in Austria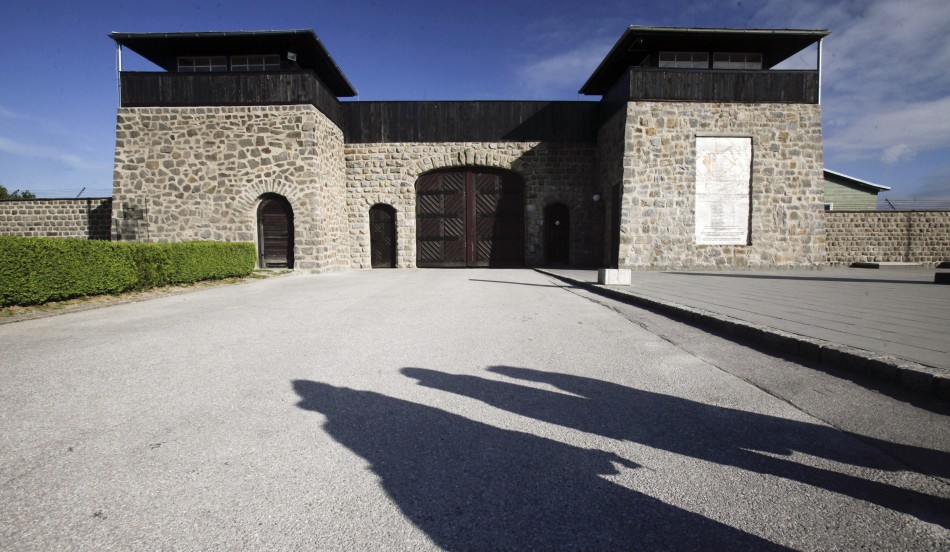 http://d.ibtimes.co.uk/en/full/69065/3-nazi-concentration-camp-mauthausen-austria.jpg?w=736&h=428&l=50&t=50 
In 2001, a California defense contractor built a small replication of the Nazi Bell device, and it produced effects just as Igor Witkowski and Nick Cook had reported on the original project. The Nazi Bell replication was built by SARA under funding from Joe Firmage's ISSO startup, and developed around an applied engineering model of Einstein's Unified Field Theory. In short, it was a modern attempt at a scale replication of the original Nazi Bell experiment, based largely on their interpretation of the original Bell design.
The Nazi Bell replication is important because it offers validation for the research of Igor Witkowski and Nick Cook, but also because it demonstrates the application of theories proposed by Dr. James Corum and John Dering that offer explanations for not only the Nazi Bell experiment, but for the Philadelphia Experiment and the Hutchison Effect as well. In short, these are Unified Field Theory effects, which explains their strange side effects and unpredictable nature.
The Nazi Bell replication that Coruma and Dering participated in was related to WW-II German research, but the modern replication had been financed by Joe Firmage's ISSO startup for about 1.2 million dollars, and wasn't an exact replica of the original device. SARA's version was much smaller (about 100 watts) and they'd modified the design, since they didn't actually know many of the details of the original Bell's construction.
SARA tested their mini-version of the Bell and found that it effectively produced a gravitational back-EMF that they couldn't shield against. That's important, because SARA does electromagnetic shielding on the B-2 bomber, and even with their expertise they tried everything imaginable before realizing that it was a time-space distortion effect. They shut the experiment down when ISSO funding dried up, although the claim is that if the cash is available, they still have the unit ready & waiting for more tests.
The Nazi Bell replication effort is also important because it validates the role of higher-dimensional models of physics in the development of advanced propulsion technology. Einstein's Unified Field Theory, largely the base of the Nazi Bell replication effort, is a direct ancestor of today's M-Theory (Brane-Theory) models, which are predicting warp-drives and other cutting-edge technologies.
The Nazi Bell replication offers advice on engineering Unified Field Theory effects as well: Dering has repeatedly suggested that Gabriel Kron's work both identifies and eliminates higher-dimensional effects from traditional electrical equipment to increase efficiency, and it has done so since Kron introduced his model to the engineering community in the 1930's, which would explain why UFT effects are not present in conventional electrical equipment. By understanding how his models eliminate UFT effects in today's equipment, it may be possible to design experimental devices that instead maximize these effects for research purposes.
Gabriel Kron is generally considered to be one of the most important contributors to modern electrical engineering, and he viewed these effects as wasteful interference that reduced the efficiency of all types of systems, especially those containing rotating magnetic fields. The models that he developed sought to eliminate higher-dimensional interference in order to bolster the efficiency of electrical equipment. In other words, warping time-space takes energy, and Kron wanted electric motors to spin a driveshaft, not the space-time around it.
http://www.americanantigravity.com/ 
http://img.ehowcdn.com/615×200/ehow/images/a07/mr/sj/minotaur-greek-mythology-800×800.jpg
Video: U.S. Underground City, Roadway SystemSunday, March 3, 2013 7:01
http://www.liveleak.com/view?i=231_1362351197 
[a very large file]
http://conspiracyarchive.com/NWO/project_paperclip.htm 
http://www.ancientcoinage.org/uploads/3/0/4/2/3042200/1617622.jpg?391
http://hitlermystery.blogspot.com/2010/05/nazi-underground-empire.html
[I've taken the liberty of capturing this into a pdf for easier reading:  Nazi Underground Empire  ]
http://tanea-london.net/MythologyPlus/Mythos31_files/thesminotaur_15727_lg-filtered.jpg
'Are you, your family or your community at risk of turning to violent extremism? That's the premise behind a rating system devised by the National Counterterrorism Center, according to a document marked For Official Use Only.
The document –and the rating system –is part of a wider strategy for Countering Violent Extremism, which calls for local community and religious leaders to work together with law enforcement and other government agencies. The White House has made this approach a centerpiece of its response to terrorist attacks around the world and in the wake of the Paris attacks, announced plans to host an international summit on Countering Violent Extremism on February 18th.'
http://theinternetpost.net/2015/02/17/police-and-social-workers-using-government-questionnaire-to-see-if-you-your-family-could-be-terrorists/ 
"… The final panel will focus on secure and resilient communities, and it will, in particular, begin by looking at the role of civil society, particularly youth and women preventing violent extremism.  It will look at community-police relations and community-security force relations as a critical element of prevention.  And it will finally broaden that conversation to address social, economic and political marginalization, including the effects of integration of minority communities. 
The event will close with remarks by National Security Advisor Ambassador Susan Rice. …."
http://www.whitehouse.gov/the-press-office/2015/02/16/background-conference-call-senior-administration-officials-previewing-wh 
Susan_Rice is, you know, a Rhodes Scholar married to an ABC-TV producer, daughter of the second black governor of the Federal Reserve System, and is also a member of the Council on Foreign Relations and the Aspen Strategy Group. She was described by Justin Raimondo as "one of the most militant [pdf] of the New Interventionists who infest the Obama administration's foreign policy shop".
Sounds like the "in loco parentis" and parental pre-emptive misdirection I received in my boyhood… "lashes or beatings" for predicted non-conformity.
And of course the bitter hypocrisy of it all is that it is the authoritarian leadership of the US, born of the criminal bankers, the Skull and Bones crowd, the intelligence apparatchiks themselves, aided by the people and the techniques they imported from Nazi Germany, that has created, nurtured, armed, mind-controlled and set loose the very miscreants they rant about so they have an excuse to trash the world and rape it of its beauty, integrity and humanity.
This is what you aspire to do with yourself and the world when you are radicalized through membership in secret societies.
How can you have any pudding if you don't beat your meat?