jazz brain
Your Brain on Improvisation  (a 20-min. TED talk by a physician/surgeon and muscian)
https://www.youtube.com/watch?v=U4k5JFmahVY  
Click on this link for large image:
http://66.media.tumblr.com/52bd5cc9da4c13c70503c13d840dc7da/tumblr_ml5b4ohAgz1rd1n1oo1_r1_1280.png 
http://science-junkie.tumblr.com/post/47797444631/why-your-brain-loves-that-new-song-when-jazz 
Giant Steps
https://www.youtube.com/watch?v=fxTdBg1MoQQ
Bobby Watson – Being a Student and Being a Teacher
https://www.youtube.com/watch?v=BZcWLa5_NNU
IRockJazz caught Bobby Watson on his recent visit to Chicago, and he discussed how he came to be a Jazz musician, how he picked the alto sax, and his view of Jazz education now. Don't miss the quote Bobby recalls from Art Blakey when he visited University of Miami as a guest lecturer and addressed the students "You come here to get your diploma, you come with me to get your education"
Interested seeing more great interviews? Visit www.irockjazz.com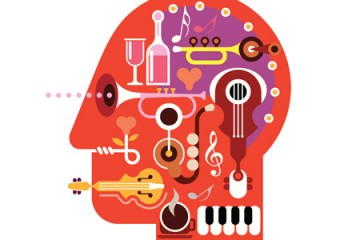 http://api.hub.jhu.edu/factory/sites/default/files/styles/hub_thumbnail/public/music_mind.jpg?itok=CcSrgjAr
"Ever hear of "trading fours?"
It's that back-and-forth trade jazz musicians do when they're engaged in a musical "conversation." One musician will play four bars of music, and the other will respond with four bars of her own. This improvised call and response is one of the things that makes jazz music so … jazzy. (Here's an example of trading. Notice how the bass and piano cut out at regular intervals.)
Scientists at Johns Hopkins wondered whether studying the brains of musicians actively engaged in trading fours might shed light on the relationship between music and language. Under the direction of Charles Limb, an associate professor in the Department of Otolaryngology-Head and Neck Surgery at the School of Medicine, researchers placed musicians inside an MRI machine, gave them a special (see: non-magnetic) keyboard, and told them to have at it.
Here's what researchers discovered: The brains of jazz musicians engrossed in spontaneous, improvisational musical conversation showed activation of brain areas traditionally associated with spoken language and syntax, areas that are used to interpret the structure of phrases and sentences. But the musical conversation shut down brain areas linked to semantics—those that process the meaning of spoken language.…."
More:
http://hub.jhu.edu/2014/02/19/your-brain-on-jazz/ 
Creative Brains: Music Art and Emotion
University of California Television (UCTV)  [71 minutes]
https://www.youtube.com/watch?v=C6txK8LXg1o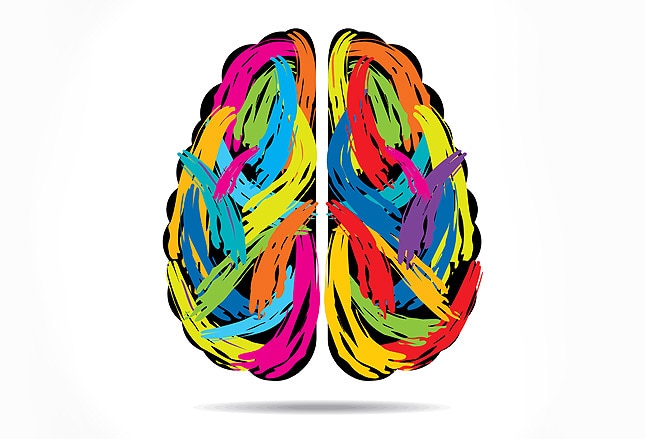 http://img.medscapestatic.com/pi/features/slideshow-slide/brain-disorders-art/fig1.jpg?resize=645:439
Secrets of the Creative Brain 
The Aspen Institute (58 minutes)
Nancy Andreasen is a leading neuroscientist and psychiatrist at the University of Iowa whose fascinating research into the creative mind has been informed in part by the stream of remarkable writers who gather there. She is now conducting a study that uses neuroimaging to visualize the creative brain in action, examining both artists and scientists. Her work also examines the roles of nature v. nurture and the relationship between creativity and mental illness.
https://www.youtube.com/watch?v=unAbERa0otY 
https://www.allaboutjazz.com/photos/2010/brainmusic800x480.jpg
Creativity, Genius and the Brain
Dana Foundation (93 minutes)
Presenters:
Nancy Andreasen, M.D., Ph.D.
Andrew H. Woods Chair of Psychiatry, University of Iowa College of Medicine
John Kounios, Ph.D.
Professor of Psychology, Drexel University
Roberta B. Ness, M.D., M.P.H.
Rockwell Professor of Public Health, Vice President for Innovation
The University of Texas School of Public Health
https://www.youtube.com/watch?v=pFPBxjp1iM0 
https://neuroaestheticsnet.files.wordpress.com/2015/03/oup-cover.jpg?w=711&h=1025
The Neuroscience of Creativity, Flow, and Openness to Experience – Scott Barry Kaufman, Ph.D.
BTC Institute  (64 minutes)
BioPharmaceutical Technology Center Institute
Part of the 12th Annual International Bioethics Forum, "Further Studies in Human Consciousness: Creative Insight", held by the BTC Institute in Madison, WI on May 25-26, 2013.
For detailed information about the forum and more videos, please visit http://www.btci.org/bioethics
https://www.youtube.com/watch?v=Un_LroX0DAA 
http://cdn.creativityatwork.com/wp-content/uploads/whole-brain-intelligence600px.jpg
Creative Brains (Scott Kaufman)(20 minutes)
https://www.youtube.com/watch?v=zpWLZntADdI 
http://www.azquotes.com/picture-quotes/quote-there-is-no-one-part-of-the-brain-which-recognizes-or-responds-emotionally-to-music-oliver-sacks-128-31-09.jpg
David Lynch: Consciousness, Creativity and the Brain (two hours)
David Lynch, the critically-acclaimed director behind such films as Blue Velvet and Mulholland Drive, spoke at the University of Oregon on Tuesday, November 8th, 2005. The Lecture is entitled "Consciousness, Creativity and the Brain." Lynch was accompanied by Drs. John Hagelin, Ph.D., and Fred Travis, Ph.D.
https://www.youtube.com/watch?v=vtgtkuKs8HQ 
http://izquotes.com/quotes-pictures/quote-in-jazz-you-listen-to-what-the-bass-player-is-doing-and-what-the-drummer-is-doing-what-the-david-amram-4537.jpg
The Primacy of Consciousness – Peter Russell – Full Version (70 minutes)